PT Classroom - Snail Mail to Ignite Physician Referrals ׀ by Nitin Chhoda, PT, DPT

Nitin Chhoda PT, DPT, received his Doctorate of Physical Therapy degree from the University of New England. He is a successful private practice owner and private practice consultant based in Denville, NJ. He conducts workshops, online courses and writes books and articles on private practice marketing.
Snail Mail to Ignite Physician Referrals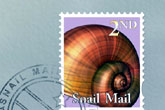 As a private practice owner, it is critical to be very efficient with the dollars spent on marketing and advertising. This requires a great deal of thought and planning about your patients and referral sources. The truth is, doctors and patients are part of an ever expanding breed of busy, overwhelmed beings growing increasingly resistant to any message that is irrelevant, common and unessential. If you have had little success trying to get the attention of referral sources, then you may want to ask yourself the following questions:
a) Do I have something new to say to them, that will get their attention?
b) How can I deliver the message to them, without obstruction from the gatekeepers?
c) How can I follow up with them, so the relationship is finally established?
Once you follow the 3 steps above, the rest falls into place because your standards of care and patient results will speak for themselves.
For most private practice owners, these steps are simple, when you have a one-to-one meeting with the doctor. We know we can show them what we have to offer, and get them to refer. Having said that, it's tough to get such meetings with doctors. More often than not, a private practice owner is regarded as an unwelcome pest, and unable to 'get past the gatekeeper'.
Another sticking point emerges, when the time-strapped private practice owner tries to take this one-to-one approach and apply it to one-to-many. If you do this successfully, you can reach MANY referral sources with the same amount of effort (albeit significantly more planning), identify the doctors who WANT to refer to you, build relationships with them and spend less time worrying about the ones who will NEVER refer.
The best referral relationship is built one-on-one. The best systems are built one-on-many, with the help of a carefully written letter (and phone call follow ups) to groups of doctors (and other referral sources) in your area. This letter is called the 'initial introduction letter' and serves to 'break the ice' with doctors and offer their patients something of value (a free book, report or consultation) to help patients reach their goals. Do NOT ask for the referral right away, in the initial introduction letter. Treat referrals as a 2 step process, and the use of snail mail as a way to facilitate step 1; initial contact.
There are distinct advantages to using letters / packages (snail mail) mailed to potential referral sources in your community. When done correctly, this allows you to get doctors to pay attention to your practice. You graduate from an unwelcome pest to a welcome guest.
The primary advantage is the involvement from the reader. The more time you can get from the reader (2-3 minutes reading a letter), the greater the chances that you can engage the reader into thinking about a referral. To get your letter past the gatekeeper, you can consider hand addresses envelopes (so they appear to be personal mail, which they are), hand written fonts and name personalization in the body of the letter, envelopes with the word 'confidential' written on them, unusual envelopes that appear to be 'priority mail', mailing the doctors at their home addresses instead of the office and phone calls prior to the envelope delivery indicating that 'an important letter is on the way'.
Also, you can provide a physical, tactile experience to the reader. If you send different paper sizes and textures, folders, objects in the mail, lumpy mail, it's easier to get the attention of the recipient. When an individual can touch and handle a package that is sent to them, you 'break through the clutter' and have a significant chance of entering their conscious thought process.
This method of 'initial contact' with doctors can be systematized with snail mail. Let's say you spend $4 on a snail mail package consisting of a plastic pill bottle with a letter inside it that describes your services and how they can be an adjunct to traditional medicine for pain relief (example). It's easy to hire a company to send this out to 100 doctors in your area, and your cost is $400. If you can get the attention of a single doctor, and ignite that 'first referral' with a phone call follow up to the doctor 2-3 days after this package was delivered to them, your return on investment was significant, since the net income from first patient will cover the cost of your mail campaign.
In the above example, we have assumed a response rate of 1% (since 1 doctor out of 100 recipients will take notice). This ratio can be improved significantly with micro-targeting and research prior to the delivery of your mail campaign. If you can identify subgroups of doctors in your community, understand their patient's needs and communicate with them about the individual goals of their patient and how YOU can help their patients get there faster, you will stand out.
There is no 'one size fits all' approach anymore. You should be able to take a list of all the doctors in your community, carve them up into slivers of potential referral sources and send them variations of your 'initial introduction letter', customized to their practice, their patients and their needs to get the best impact from this snail mail system.
Take the effort to create a relevant message with the right amount of personalization and mail it to the right doctors in your community to see a surge of new activity in your practice.

To learn more about private practice and marketing you can visit Nitins' websites at addnewpatients.com where you can download his free 4 step formula on how to attract new patients, increase referrals and grow your referral network with a simple 4 step plan and physicaltherapywebsite.com where you can download a free book on physical therapy marketing.
Last revised: July 1, 2011
by Nitin Chhoda, PT, DPT
Please review our
terms and conditions
carefully before utilization of the Site. The information on this Site is for informational purposes only and should in no way replace a conventional visit to an actual live physical therapist or other healthcare professional. It is recommended that you seek professional and medical advise from your physical therapist or physician prior to any form of self treatment.
Copyright 2005-2022 CyberPT Inc. All rights reserved.