PT Classroom - Chronic Pain Management - Neurostimulation ׀ by Kostandinos Tsoulfas, MD & Chai Rasavong, MPT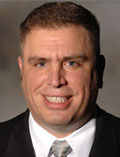 Dr. Kostandinos Tsoulfas completed his undergraduate training at Wisconsin Lutheran College. From there he received his medical degree from Memorial University in Canada. Dr. Tsoulfas returned to Wisconsin were he successfully completed a residency in Family Practice through the University of Wisconsin at St. Lukes Hospital. Dr. Tsoulfas is board eligible in Family Practice and Pain Medicine. During his residency training, Dr. Tsoulfas focused on pain management in a primary care setting. Dr. Tsoulfas is currently practicing at Advanced Pain Management and is a member of the implant team there which specializes in the implantation of intrathecal narcotic and baclofen pumps.
Chronic Pain Management - Neurostimulation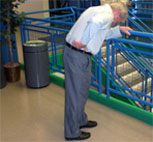 The World Health Organization has defined pain as "an unpleasant sensory or emotional experience associated with actual or potential tissue damage, or described in terms of such damage". The National Center for Health Statistics Report in 2006 revealed that more than one-quarter of Americans (26%) age 20 years and over - or, an estimated 76.5 million Americans - report that they have had a problem with pain of any sort that persisted for more than 24 hours in duration (1). Of the 26% of Americans who suffer from pain, 42% of these individuals have experienced pain for longer than one year.

The U.S. National Center for Health Statistics defines chronic pain as pain that lasts longer than 3 months. However some experts define it as lasting longer than 6 or 12 months (2). All the same, chronic pain is a devastating condition which affects the lives of a significant portion of the population. Conditions which are often associated with the worst form of chronic pain can include: post surgical chronic back pain, failed back syndrome, radicular pain syndrome, discogenic syndrome, postlaminectomy pain, degenerative disc disease, peripheral causalgia, epidural fibrosis, complex regional pain syndrome, reflex sympathetic dystrophy or causalgia and arachnoiditis.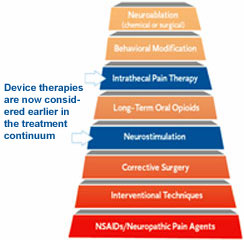 Patients with chronic pain often seek treatment options from a variety of healthcare providers in various disciplines. Often times a trial of oral pain medications are first utilized in an attempt to control the pain. If unsuccessful, other treatment approaches can also be utilized including corticosteriod injections, nerve blocks, physical therapy, chiropractic care, device therapies and surgery. Most recently, pain management specialists are now considering device therapies earlier in the treatment continuum (3).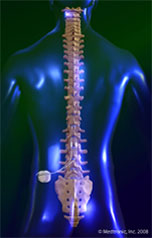 One such device that is currently being utilized by many pain management specialists is the use of a neurostimulator. Neurostimulation or spinal cord stimulation therapy involves the use of an external pulse generator to deliver small electrical signals via percutaneous leads which are implanted into the epidural space on the dorsal aspect of the spinal cord at the appropriate nerve root level(s) (4). These signals assist with inhibiting pain signals before they reach the brain and replaces them with a tingling sensation that covers the specific areas where pain was felt. The electrical current from the lead which generates paresthesias can be adjusted in intensity and location to achieve the best pain coverage. Patients can than adjust stimulation to meet pain management needs.

Various studies have been conducted which have shown positive results with the use of neurostimulation therapy. A study by Kumar et al (5) performed a multicenter randomized controlled trial for spinal cord stimulation for chronic pain associated with failed back surgery syndrome against conventional medical management over 24 months. The study revealed that after 24 months of neurostimulation treatment, selected failed back surgery syndrome patients reported sustained pain relief, clinically important improvements in functional capacity and health-related quality of life, and satisfaction with treatment. Another study by North et al (6) compared neurostimulation with lumbosacral spine surgery for chronic pain. The study concluded neurostimulation is more effective than reoperation as a treatment for persistent radicular pain after lumbosacral spine surgery, and in the great majority of patients, it obviates the need for reoperation.

Some added benefits of neurostimulation therapy includes (4):
• An effective method of pain control for many patients
• Reduces or eliminates pain medications
• Non-destructive and less invasive than surgical alternatives
• Reversible – can be discontinued or surgically removed
• Systems reprogrammable without surgery
• Trial helps assess patient response
• Patient control within physician-set limits

Meanwhile, there are some risks which are associated with neurostimulation therapy as well. These risks includes (4):
• Lead migration resulting in loss of pain relief
• Intermittent or uncomfortable stimulation
• Stimulation in the wrong location
• Neurological damage during procedure
• Risk of infection at implantation

Once a patient has been able to better manage his or her pain with the neurostimulator, additional physical rehabilitation may be required to assist the patient with improving strength, ROM, posture, gait and function. In physical therapy, when working with patients who have had a neurostimulator device implanted, modalities such as diathermy, electrical stimulation and ultrasound to or around the area should be avoided. Therapists should also ensure that patients avoid activities and exercises that may put undue stress on the implanted neurostimulation system components. With more efficient pain management, the patient should now be presented with the opportunity for better participation in physical therapy with the primary goal of of achieving additional functional outcomes.

Last revised: May 18, 2010
By Kostandinos Tsoulfas, MD & Chai Rasavong, MPT
References
1) http://www.painfoundation.org/newsroom/reporter-resources/pain-facts-figures.html
2) Main, CJ; Spanswick, CC (2001). Pain management: an interdisciplinary approach. Elsevier. p. 93.
3) Stamatos JM, et al. Live Your Life Pain Free, October 2005. Based on the interventional pain management experience of Dr. John Stamatos
4) http://professional.medtronic.com/interventions/spinal-cord-stimulation/overview/index.htm
5) Kumar K, Taylor RS, et al. The effects of spinal cord stimulation in neuropathic pain are sustained: a 24-month follow-up of the prospective randomized controlled multicenter trial of the effectiveness of spinal cord stimulation. Neurosurgery 2008;63(4):762-70.
6) North RB, Kidd DH, et al. Spinal cord stimulation versus repeated lumbosacral spine surgery for chronic pain: a randomized, controlled trial. Neurosurgery 2005;56(1):98-1067.
Please review our
terms and conditions
carefully before utilization of the Site. The information on this Site is for informational purposes only and should in no way replace a conventional visit to an actual live physical therapist or other healthcare professional. It is recommended that you seek professional and medical advise from your physical therapist or physician prior to any form of self treatment.
Copyright 2005-2021 CyberPT Inc. All rights reserved.