PT Classroom - Direct Access and Neck Pain: Is your screening effective? ׀ by Nicholas W. Gigliotti, PT, DPT

Nicholas W. Gigliotti, PT, DPT, is physical therapist with Big Stone Therapies, Inc. at the Avera Marshall Regional Medical Center in Marshall, Minnesota. Dr. Gigliotti is an alumnus of the College of St. Scholastica in Duluth, Minnesota and current student in Evidence in Motion's Manual Therapy Certification program. Dr. Gigliotti serves as Delegate and Federal Key Contact for the Minnesota Chapter of APTA and treats patients in outpatient, inpatient, and nursing home settings.
Direct Access and Neck Pain: Is your screening effective?
In April 2013, the American Physical Therapy Association (APTA) announced that all 50 states and the District of Columbia now have direct access to evaluation. In addition, 48 states plus DC, including Indiana, have some level of direct access to treatment.
(If you are not a member, please become one here.)

Just last month, APTA House of Delegates adopted a bold new vision statement on behalf of our profession "Transforming society by optimizing movement to improve the human experience."

No matter your opinion on the statement, a close look inward is required. Are you truly ready for full direct access and to pursue the transformation of society through your skilled service?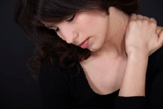 One of the most important components to being a direct access provider is the ability to accurately screen for red flags. In a recent case report by Mathers, Schneider, and Timko (1), the authors describe a patient reported to clinic with chronic neck pain, "occipital headache that radiated behind her eyes, dizziness, intermittent paresthesia in the upper extremities bilaterally, reporting that the neurosurgeon did not find any abnormal neurological signs." Additional findings included "past history of trauma, positive lateral shear test, symptom provocation and arm drift with cervical rotation/extension, and asymmetrical movement of the C2 spinous process with lateral flexion." If this heavily involved patient presented to you without prior chart review, would you be prepared?

The best way to avoid being caught off guard is to prepare in-depth intake forms and review the current literature. Below is a basic review of some red flags, with important pieces of literature that should be reviewed to improve ability to provide adequate screening and updated intake procedures.

Red Flags of the Head, Neck, Shoulder
Symptoms/Factors (Yung et al. 2010 (2))
● Constitutional - weight loss, fevers, recent infection
● Age and History of Cancer
○ Common metastatic cancers that cause spine pain are from prostate, breast, kidney, thyroid, lung, &lymphoma (Remember the mnemonic "lead kettle" = PB KTLL)
● Immunosuppression
○ Think autoimmune diseases, like Crohn's, Lupus, Rheumatoid Arthritis in which immunosuppressants are often prescribed.
○ Establish a list of the most common immunosuppressive drugs.

Systems
■ Cardiovascular
○ Cervical Arterial Dysfunction (Kerry et al. 2008(3)) - Using cervical arterial dysfunction, rather than vertebral insufficiency to allow great consideration of atherosclerotic risk factors, which may assist in identifying at-risk patients and patients presenting with frank arterial pathology.
■ Pulmonary
○ Pulmonary Embolism (Wells et al. 2000 (4))
● Wells Clinical Decision Rules
- Low risk: < 2 points (3.6% probability)
- Moderate Risk: 2 – 6 points ( 20.5% probability)
- High risk: > 6.0 points (66.7% probability)
- For specifics, see Appendix A
■ Gastrointestinal/Hepatic/Biliary/Renal/Urinary
■ Neoplastic Conditions
■ Infections and Inflammatory disorders
■ Musculoskeletal
○ Cervical Myelopathy (Cook et al. 2010 (5)) - Five clinical findings: 1) gait deviation 2) +Hoffmann's 3) inverted supinator sign 4) +Babinski test 5) age >45 years
- Combinations of three of five or four of five tests enabled adjustments of post-test probability of the condition to 94–99%.
○ Cervical Fracture
○ Canadian C-Spine Rules (Stiell et al. 2003(6))
- Sensitivity 99.4% (CI 95, 96-100)
- Shows strong diagnostic utility in ruling out fractures when patient's negative for the rule.
- Only 1 missed cervical spine fracture, out of 8283 patients in an emergency room setting!
- For specifics, see Appendix B

■ Psychological
○ Depression
- National Institute of Mental Health suggests a quick 2 question screen. in which one "yes" answer has shown 96% sensitivity.
"Over the past 2 weeks, have you felt down, depressed or hopeless?"
"Over the past 2 weeks, have you felt little interest or pleasure in doing things?"
- One "yes" answer has shown 96% sensitivity in ruling in depression.
- Importance demonstrated by George et al. (7), who found that depressive symptoms had a moderate to large effect on pain ratings and a small to large effect on functional status.

In summary, neck pain is second only to low back pain in annual workers' compensation costs in the United States8. It has also been shown that 44% of patients experiencing neck pain will go on to develop chronic symptoms (9). Combine these facts with physical therapy's move towards increased direct access, and the importance of in-depth, accurate screening has never been more important. So update your intake forms, use these resources to sharpen your screening skills and transform society!
Appendix A - Wells Clinical Decision Rules
| | |
| --- | --- |
| Predictor Variable | Score |
| Clinical signs and symptoms of DVT | 3.0 |
| No alternative diagnosis | 3.0 |
| Heart rate >100bpm | 1.5 |
| Immobilization following surgery in the past 4 weeks | 1.5 |
| Previous DVT/PE | 1.5 |
| Hemoptysis | 1.0 |
| Malignancy | 1.0 |
| Total | /12.5 |
Low risk: < 2 points, Moderate Risk: 2 – 6 points, High risk: > 6.0 points
Appendix B - Canadian C-Spine Rules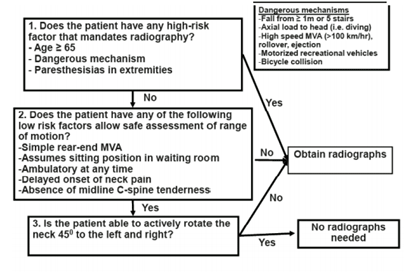 Last revised: July 23, 2013
by Nicholas W. Gigliotti, PT, DPT
References
1) Mathers KS, Schneider M, Timko M. Occult hypermobility of the craniocervical junction: a case report and review. J Orthop Sports PhysTher. 2011 Jun;41(6):444-57. doi: 10.2519/jospt.2011.3305. Epub 2011 May 31. Review. PubMed
PMID: 21628827.
2) Yung E, Asavasopon S, Godges JJ. Screening for head, neck, and shoulder pathology in patients with upper extremity signs and symptoms. J Hand Ther.2010 Apr-Jun;23(2):173-85; quiz 186. doi: 10.1016/j.jht.2009.11.004. Epub 2010 Feb 11.
PubMed PMID: 20149960.
3) Kerry R, Taylor AJ, Mitchell J, McCarthy C, Brew J. Manual therapy and cervical arterial dysfunction, directions for the future: a clinical perspective. J Man ManipTher. 2008;16(1):39–48. doi: 10.1179/106698108790818620.
4) Wells PS, Anderson DR, Rodger M, Ginsberg JS, Kearon C, Gent M, Turpie AG, Bormanis J, Weitz J, Chamberlain M, Bowie D, Barnes D, Hirsh J. Derivation of a simple clinical model to categorize patients probability of pulmonary embolism: increasing the models utility with the SimpliRED D-dimer. ThrombHaemost. 2000 Mar;83(3):416-20. PubMed PMID: 10744147.
5) Cook C, Brown C, Isaacs R, Roman M, Davis S, Richardson W. Clustered clinical findings for diagnosis of cervical spine myelopathy. J Man ManipTher2010;18(4):175–80.
6) Stiell IG, Clement CM, McKnight RD, Brison R, Schull MJ, Rowe BH, Worthington JR, Eisenhauer MA, Cass D, Greenberg G, MacPhail I, Dreyer J, Lee JS, Bandiera G, Reardon M, Holroyd B, Lesiuk H, Wells GA. The Canadian C-spine rule versus the NEXUS low-risk criteria in patients with trauma.N Engl J Med. 2003 Dec 25;349(26):2510-8. PubMed PMID: 14695411.
7) George SZ, Coronado RA, Beneciuk JM, Valencia C, Werneke MW, Hart DL.Depressive symptoms, anatomical region, and clinical outcomes for patients seeking outpatient physical therapy for musculoskeletal pain.PhysTher. 2011 Mar;91(3):358-72. doi: 10.2522/ptj.20100192. Epub 2011 Jan 13. PubMed PMID: 21233305; PubMed Central PMCID: PMC3048818.
8) Borghouts JA, Koes BW, Bouter LM. The clinical course and prognostic factors of non-specific neck pain: a systematic review. Pain. 1998 Jul;77(1):1-13. Review. PubMed PMID: 9755013.
9) Wright A, Mayer TG, Gatchel RJ.Outcomes of disabling cervical spine disorders in compensation injuries.A prospective comparison to tertiary rehabilitation response for chronic lumbar spinal disorders.Spine (Phila Pa 1976). 1999 Jan 15;24(2):178-83. PubMed PMID: 9926390.
Please review our
terms and conditions
carefully before utilization of the Site. The information on this Site is for informational purposes only and should in no way replace a conventional visit to an actual live physical therapist or other healthcare professional. It is recommended that you seek professional and medical advise from your physical therapist or physician prior to any form of self treatment.
Copyright 2005-2021 CyberPT Inc. All rights reserved.