PT Classroom - Marketing Your Physical Therapy Practice on a Shoestring Budget ׀ by Chad Novasic, PT

Chad Novasic is the President and CEO of Alliant Physical Therapy Group. He is a 1988 graduate of Marquette University. His focus has been in the field of outpatient orthopedic rehabilitation and injury prevention. Chad has been an independent Physical Therapist since 1989. He is proud to be active in the community having served as President of the Wisconsin Independent Physical Therapists, and on the Board of the Racine Founders Rotary and the Wisconsin Physical Therapy Association. Over the years, Chad's passion for physical therapy and helping others has complimented his capacity to help fellow physical therapists open and run successful private physical therapy practices.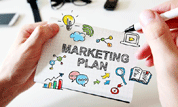 Succeeding in private practice has become harder and harder as the healthcare industry evolves and reimbursement for services become more restrictive. This has required private practice owners to become more creative, think outside of the box, and become more effective marketers in order to distinguish their practice and services from competitors. Many private practice owners may spend thousands and thousands of dollars to promote their practice and services which may or may not turn out to be an effective use of advertising dollars. Given the many different avenues that can be purchased for advertising, often times the simple and free venues for advertising your practice may be overlooked and not taken advantage of.

Below are some strategies that are discussed which can help you promote your practice / services at minimal or no costs for your practice.

Social Media (FREE)
• LinkedIn
- Make connections from your email list
- Connect with patients/friends/colleagues/professionals and use their contacts to become your contact
- Write your own posts for LinkedIn
- Join related groups on LinkedIn
- Share pertinent posts on LinkedIn
• Facebook
- Create a Facebook page for your business
- Like related pages - AMA, JAMA, TED talks, orthopedic/medical groups in your area, etc....
- Share pertinent posts from these sites
- Keep your followers up to date on the latest news and developments at your practice
- Interact with your followers
- Have your patients leave testimonials and rate your practice on your Facebook page
• Twitter
- Create a Twitter account for your business
- Follow pertinent sites
- Retweet good information
- Link your posts on Facebook to twitter
• YouTube
- Create a Youtube account/channel for your business
- Create and share informative videos dealing pertaining to physical therapy and health

Search Engine Optimization
- Write articles and get them published so that they include links to your site
- Make sure that your practice is included in Google Business Listing, Bing Places for Business, Yahoo Local, Yelp, etc
- Have your patients rate you and leave testimonials on the business listing sites

Enhanced Word of Mouth
- Promoting referrals via incentives from current patients
- Direct mail/ email campaign
- Asking your current contacts for referrals of friends and families

Direct Marketing
- Developing physician referral relationships
- Get Physician cell phone numbers
- Personal Progress notes

PR / Community involvement
- Provide community outreach programs ie. Weight loss, Exercising 101, running clinic, golf clinic, etc.
- Become an active chamber member
- Join organizations such as Rotary, Kiwanis, Knights of Columbus , etc
- Participate and promote your practice at local events and festivals
- Sponsorships - Heart walk, Walk for life etc...
- Food drives etc....................

Programs / Services
- Dry needling
- Population health efforts
- Cancer
- Anything that sets you apart within the community

If you are thinking about starting a private practice, NOW is a great time to go into private practice! For more information on starting up a private practice you can visit the Private Practice Section of the APTA or contact Chad at chadnov@aol.com.

Other Private Physical Therapy Practice related articles by Chad
- Starting a Private Physical Therapy Practice
- Basic Equipment for Starting a Private Physical Therapy Practice
- Physical Therapy Private Practice Tips - Red Flag Rules
Last revised: April 24, 2016
by Chad Novasic, PT
Please review our
terms and conditions
carefully before utilization of the Site. The information on this Site is for informational purposes only and should in no way replace a conventional visit to an actual live physical therapist or other healthcare professional. It is recommended that you seek professional and medical advise from your physical therapist or physician prior to any form of self treatment.
Copyright 2005-2022 CyberPT Inc. All rights reserved.