PT Classroom - Lymphedema Management ׀ by Debra Sturm, OT, CHT, CLT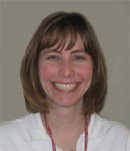 Debra Sturm received her Master's degree in Occupational therapy from Midwestern University in Downer's Grove, IL. She has over 11 years of experience and is a certified hand therapist. Debra had a great interest in lymphedema and became a Certified Lymphedema Therapist in 2005. Currently she is a occupational therapist at United Hospital System in Kenosha, WI. She works with a variety of patients who have upper extremity injuries, lymphedema or requires splinting of the upper extremity.
Lymphedema Management

Lymphedema is a condition in which there is progressive swelling of a body part. This is usually seen in the arms or legs but can also be seen in the breast, groin, and face. The lymphatic system is made up of a series of collecting ducts, lymphatic vessels and lymph nodes. In essence, a problem arises when the one-way valves of the lymphatic vessels are affected which allows fluid to return to the extremity. Lymphedema is classified into a primary and secondary category. Primary lymphedema occurs due to an absent or dysfunctional lymphatic system with no outside cause. Secondary lymphedema is a result of a surgical disruption or as a progressive complication from illness.

There are many causes of lymphedema. One cause may be from inactivity such as with paralysis. Other causes may also include node removal with mastectomy, abdominal tumors, chronic venous insufficiency, or trauma. In many cases, an individual may have one of these risk factors without developing lymphedema.
In seeking out treatment, it is advisable to find an occupational or physical therapist who specializes in lymphedema therapy. Often these therapists will have the credential "CLT" or Certified Lymphedema Therapist. There are usually 5 components of treatment: manual lymphedema massage, compression bandaging and/or garments, exercises, vasopneumatic pump and education. Treatment is tailored to the individual's needs.
Contraindications to treatment include acute renal disease, acute blood clots, cellulites, severe arterial disease, and acute heart conditions. Chronic renal disease that is controlled is appropriate for treatment as well as cellulites after treatment with antibiotics.
The key to managing lymphedema is early intervention and proper treatment to reduce swelling quickly. Your physician should be able to assist you in a referral to a Certified Lymphedema Therapist or you can obtain more information by visiting www.lymphnet.org.
Last revised: February 11, 2008
by Debra Sturm, OT, CHT, CLT
Please review our
terms and conditions
carefully before utilization of the Site. The information on this Site is for informational purposes only and should in no way replace a conventional visit to an actual live physical therapist or other healthcare professional. It is recommended that you seek professional and medical advise from your physical therapist or physician prior to any form of self treatment.
Copyright 2005-2022 CyberPT Inc. All rights reserved.