Conditions & Treatments - Lisfranc Joint Injury
Overview
The tarso-metatarsal joints of the foot are collectively referred to as the Lisfranc joint. The arch configuration of the Lisfranc joint in the frontal plane as well as ligamentous support from the dorsal transverse, plantar transverse, and intermetatarsal ligaments contribute to the stability of the joint (2).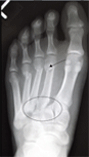 The term "Lisfranc joint injury" is used to describe a variety of posttraumatic injuries of the midtarsal region of the foot (1). 60-70% of Lisfranc joint injuries occur in males with a mean age of 31 years old (2). Lisfranc injuries are relatively uncommon, occurring at a rate of 1/55,000 persons per year, and frequently misdiagnosed (1). Researchers estimate that 20% of Lisfranc injuries are missed at the initial doctor appointment (2). (Image displays traumatic Lisfranc fracture with fractures of the 2nd to 4th distal metatarsals.)

Clinical Manifestations
Doctors rely on both clinical examination and radiographic imaging to diagnose Lisfranc joint injuries. Physical examination often reveals forefoot tenderness, forefoot swelling, and bruising on the plantar aspect of the midfoot (2). X-rays, bone scans, CT scans, and MRIs may be used to classify the severity of the Lisfranc joint injury. Two classification systems are shown in Table 1 below.

Table 1: Lisfranc Joint Injury Classification Systems (2).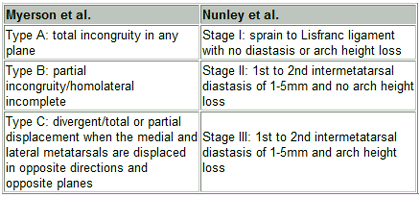 On x-rays, a widening between the first and second metatarsals, an avulsion at the base of the second metatarsal, impaction fractures of the cuboid, medial cuneiform, or navicular, or flattening of the longitudinal arch may indicate a Lisfranc joint injury (2).

Treatment
Treatment of Lisfranc joint injuries depends on the severity of the injury. Most Stage I Lisfranc joint injuries on the Nunley et al. classification scale are treated conservatively via non-weight-bearing in a cast or cast boot for 6 weeks (3). Stage II and III Lisfranc joint injuries often require open reduction internal fixation (3). Surgeons may require eight weeks of non-weight-bearing followed by four weeks of weight-bearing as tolerated in a walking boot (3). For optimal outcomes, patients should participate in a sport-specific physical therapy program (1). Depending on the severity of the injury, return to sport may take as long as 4 months to a year (3). Incidence of posttraumatic midtarsal arthritis following Lisfranc joint injuries is high, with researchers estimating an incidence of 45% (1).

Last revised: November 24, 2014
by Michelle Kornder, DPT
References
1) Bandac R. Modern principles of treatment in lisfranc midfoot dislocations. Medicina Sportiva : Journal of Romanian Sports Medicine Society. 2012;8(2):1813-1818. http://search.proquest.com/docview/1038451632?accountid=31077.
2) Mulier T, de Haan J, Vriesendorp P, Reynders P. The treatment of lisfranc injuries: Review of current literature. European Journal of Trauma and Emergency Surgery. 2010;36(3):206-216. http://search.proquest.com/docview/578344974?accountid=31077. doi: http://dx.doi.org/10.1007/s00068-010-1034-5.
3) Reid JJ, Pinney SJ. Midfoot injuries in athletes: Fundamentals of examination and treatment. Operative Techniques in Sports Medicine. 2010;18(1):46-49. http://search.proquest.com/docview/1035037203?accountid=31077. doi: http://dx.doi.org/10.1053/j.otsm.2009.11.006.


Please review our
terms and conditions
carefully before utilization of the Site. The information on this Site is for informational purposes only and should in no way replace a conventional visit to an actual live physical therapist or other healthcare professional. It is recommended that you seek professional and medical advise from your physical therapist or physician prior to any form of self treatment.
Copyright 2005-2022 CyberPT Inc. All rights reserved.