PT Classroom - The Essentials of Proper Footwear ׀ by Vern Walther, C. Ped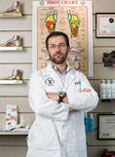 Vern Walther, Board Certified Pedorthist, is the owner/manager of Foot Solutions in Mequon, WI. As a Board Certified Pedorthist he has undergone extensive training for foot pathology, physiology, and the construction of shoes and orthotic devices. Prior to the opening of his Foot Solutions store in January 2006, Vern had been actively involved at Runner's World magazine for the past twenty five years, most recently as the Consumer Marketing Director. His past work experience at Runner's World along with his personal experience as a runner complements the Foot Solutions approach to helping individuals discover what they can do to make their feet stay healthy.

Your feet are the foundation and support for the rest of your body. Whatever your activity - be it walking, dancing, skiing, skating, jogging , or golfing - you depend on your feet for control, balance and feedback. The interface between your feet and your footwear is critical to your performance. Ideally, your footwear should make your shoes, boots, or skates a perfect extension of your body. There should be no instability or movement when the footwear is properly adjusted. At the same time, it should help absorb shock while maintaining the critical biomechanical structure and alignment of the foot.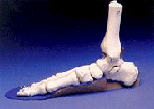 The human foot has been described as an engineering marvel and is composed of 26 bones, 33 joints, and 100 + tendons, muscles and ligaments. Abnormal foot mechanics during the stance phase of gait can affect alignment of the lower extremities and result in not only abnormal stresses at the foot but at the ankle, knee, hip, and lower back as well (1, 2). Feet were not designed with concrete and walking surfaces in mind; neither were they intended to be imprisoned in unforgiving footwear for 15 hours at a stretch. Nevertheless, those are the realities of modern living. To make matters worse, shoes are designed and mass produced to fit an "average" foot. Fortunately, in most cases accommodative inserts and orthotics can be customized and tailored for each individual. Accommodative inserts and orthotics are fitted for an individuals' feet and body type, and can support the foot in a desired position and redistribute weight-bearing patterns for comfort and protection during a dynamic task such as walking or running (3,4). They accomplish this by 1) providing softness or cushioning to increase shock absorption, 2) providing relief to pressure-sensitive plantar aspects to reduce pain under bony prominences, 3) reducing plantar shearing forces, 4) supporting or "balancing" the joints of the foot in the position most desirable for weight bearing, and 5) correcting functional deformities (5). These orthotics can be classified into rigid, semi-rigid and soft or temporary orthotics.
Keeping in mind that the most neglected parts of our body are the feet. Orthotics and specialized shoes can help minimize discomfort due to:
-Heel Pain
-Fallen or High Arches
-Achilles Tendonitis
-Plantar Fascitis
-Bunions or Calluses

-Flat Feet
-Arch & Metatarsal Pain
-Poor Posture & Instability
-Hammer Toes
-Foot Rotation

-Arthritis
-Diabetic Foot Problems
-Geriatric Conditions
-Congenital Deformities
-Prolonged Standing

-Lower Back Strain
-Athletic Injury
-Foot Trauma
-Knee or Hip Pain
-Narrow/Wide Feet

For more information on orthotics or specialty shoes please consult with your physical therapist, certified pedorthist or podiatrist. Otherwise you can contact Vern Walther, C. Ped directly by visiting www.footsolutions.com/mequon.
Last revised: September 5, 2008
by
Vern Walther, C. Ped
References
1. James SL, Bates BT, Osternig LR. Injuries to Runners. Am J Sports Med. 1978;6:40-50.
2. Jernick S, Heifitz NM. An Investigation into the Relationship of Foot Pronation to Chondromalacia Patellae. In: Rinaldi RR, Sabia ML, eds. Sports Medicine'79. Mt Kisco, NY: Futura Publishing Co Inc; 1979:1-31.
3. Pfeffinger LL: Foot orthoses. In American Academy of Orthopaedic Surgeons (ed): Atlas of Orthotics: Biomechanical Principles and Application. St. Louis, MO, C V Mosby Co, 1975, pp 346-357
4. Eng JJ, Pierrynowski MR. The effect of Soft Foot Orthotics on Three-Dimensional Lower-Limb Kinematics During Walking and Running. Physical Therapy 1994; 74(9):836-844.
5. Lockard, MA. Foot Orthoses. Physical Therapy 1988; 68(12):1866-1873.
Please review our
terms and conditions
carefully before utilization of the Site. The information on this Site is for informational purposes only and should in no way replace a conventional visit to an actual live physical therapist or other healthcare professional. It is recommended that you seek professional and medical advise from your physical therapist or physician prior to any form of self treatment.
Copyright 2005-2022 CyberPT Inc. All rights reserved.