PT Classroom - Ergonomics for the Dental Profession ׀ by Ronald W. Porter, PT, CEAS III

Ronald W. Porter is a recognized expert in the field of Occupational Safety and Health, and Ergonomics. In the past 30 years, since becoming Director of the The Back School, he has instructed over 1000 workshops and seminars on Ergonomics Awareness and Musculoskeletal Disorder Prevention to physical and occupational therapists, medical doctors, occupational health nurses, and industrial health and safety professionals. Ron has worked with over 200 industries, including Lockheed Martin Aeronautics, E.I. Du Pont, DS Waters, Shell Oil, International Paper, Cingular Wireless and the United States Navy, on the development and implementation of innovative ergonomics programs for both individual plant sites and entire corporations. He is often an featured presenter at national safety and health association conferences including the 2007 - 2010 American Society of Safety Engineers Professional Development Conferences, the 1995 - 2005 American Occupational Health Conferences, SEAK Annual National Workers' Compensation and Occupational Medicine Conferences in 2005-2007 and a March 2010 national webinar on the Aging Workforce for the ASSE Virtual Classroom. His Bachelor of Science degree is from the University of Tennessee-Knoxville and his Graduate Degree in Physical Therapy from Emory University in Atlanta, GA. He is a member of the Human Factors and Ergonomics Society, American Physical Therapy Association, American Society of Safety Engineers and the American Industrial Hygiene Association.
Ergonomics for the Dental Profession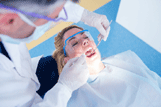 Dentistry receives many accolades with regard to the preventative orientation of its patient care and public health activities. It is ironic that there has been little focus to the prevention of adverse health consequences among the practitioners of dentistry, dental hygiene and associated occupations.

The mental and emotional stresses associated with the clinical practice of dentistry have been widely appreciated for many years. Dental professionals face many unique and challenging ergonomics risks. Understanding and using correct ergonomics techniques and equipment will improve productivity and reduce fatigue and discomfort caused by the job demands of dentists, dental hygienists and dental assistants.

The goal of this article is to provide "doable" techniques and tips that will help the dental professional perform dentistry more comfortably. Good ergonomics can increase the longevity of any professional career.

According to 2011 University of British Columbia article on, Improving Dental Ergonomics by Loraine Chan, 67% of dentists report experiencing musculoskeletal disorders, 80% of hygienists report experiencing body and back pain and 70% of 3rd year students report experiencing neck, shoulder, and back pain. Three out of five dentists (60%) and 3 out of 4 hygienists (76%) reported that they "Lived with the pain (tolerated it)." These percentages are unacceptable and they can be overcome through changes in worker' habits. In fact, Nations Business, 1990 Mar, suggests that Injury Risk at work is 80% habit related and 20 % work design related.

Ergonomics considers the match between the person, the equipment they use, the work processes and the work environment. Ergonomics principles are used to improve the "fit" between the worker and the workplace. A person's capabilities, physical attributes, and work habits must be recognized to improve ergonomics factors in the workplace.

The primary ergonomics risk factors are: Posture- awkward or static positions: Force- grip, pinch, lift, push / pull, carry: Repetition- frequency, speed and duration without adequate rest: Contact/Impact Stress- focused sustained pressure or suddenly applied with a compressive force: Vibration- segmental or whole body over time, frequency and amplitude. A dental professional is exposed to all of these ergonomics risk factors on a daily basis in their practice.

The Dental Research Journal 2012 Jan-Mar; 9(1):2-7 stated that the risk factors for physiological damage and pain to dental professionals include the following:
• Biomechanics of seated work postures
• Repeated unidirectional trunk twisting
• Static Postures
• Flexibility and core strength
• Operator's knowledge on how to adjust ergonomic chairs and equipment

There are other ergonomics risk factors that are not contained within the work place and they include physical fitness levels, age, obesity, static home postures, and even the stresses of family life. They are very important for your consideration, as well.

The POWER ZONE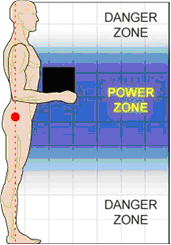 Our body is a tremendous machine! That being said, it is capable of more when used properly. Within the field of Ergonomics, our most powerful posture is stated to be within the body's POWER ZONE. We are much stronger when the hands are held closer to our body than when they are held farther away. Increasing the distance between the hands and the body increases the stress on the shoulders, neck and lower back. Awareness of your POWER ZONE and your posture will help you be more comfortable during any activity.
ERGO BREAK FOR THE WORKPLACE ATHLETE
Dentistry is a tough job that is often engaged in for 8 or more hours a day. Yet unlike an athlete, we often do not prepare our bodies for the awkward postures and exertions from a day at work. Think of Dentistry as a sport. If you're running 5 miles or playing tennis, you should do some warm-up or stretches to get your muscles and body ready for the task. It makes sense to do some dental warm-up and stretching, as well. We call it an ERGO BREAK. The following page details some specific stretches that have benefitted many. They are easy to do on your own in just a few minutes a day or even between patients. Some practices have implemented ERGO BREAK as a team building activity in the morning.

In summary, applying good ergonomics principles in the dental profession or any profession will decrease fatigue, increase productivity and decrease the risk of the individual developing discomfort or pain. Practice these principles and enjoy a long healthy career and life.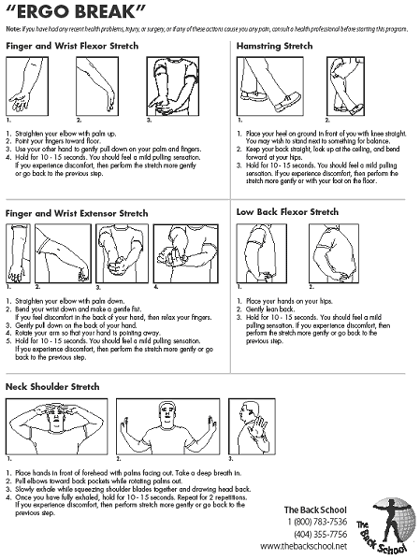 Last revised: December 28, 2016
by Ronald Porter, PT, CEAS III
Please review our
terms and conditions
carefully before utilization of the Site. The information on this Site is for informational purposes only and should in no way replace a conventional visit to an actual live physical therapist or other healthcare professional. It is recommended that you seek professional and medical advise from your physical therapist or physician prior to any form of self treatment.
Copyright 2005-2022 CyberPT Inc. All rights reserved.