PT Classroom - Complex Regional Pain Syndrome: Successful Treatments for a Complex Condition ׀ by Kostandinos Tsoulfas, MD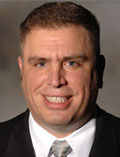 Dr. Kostandinos Tsoulfas completed his undergraduate training at Wisconsin Lutheran College. From there he received his medical degree from Memorial University in Canada. Dr. Tsoulfas returned to Wisconsin were he successfully completed a residency in Family Practice through the University of Wisconsin at St. Lukes Hospital. Dr. Tsoulfas is board certified in Family Practice and Pain Medicine. During his residency training, Dr. Tsoulfas focused on pain management in a primary care setting. Dr. Tsoulfas is currently practicing at Advanced Pain Management and is a member of the implant team there which specializes in the implantation of intrathecal narcotic and baclofen pumps.
Complex Regional Pain Syndrome: Successful
Treatments for a Complex Condition

Complex Regional Pain Syndrome (CRPS) or Reflex Sympathetic Dystrophy (RSD), is one of the more complicated painful disorders to both explain and treat. An otherwise healthy patient can come to the office with complaints of aching or burning in the limbs or feelings of hot or cold. Visible symptoms may include skin on the arm or leg changing texture and color, swelling dramatically or becoming thin and shiny. In addition, patients may experience muscle atrophy, muscle tightening or tissue wasting.

CRPS cases often follow a forceful trauma to a limb. Ninety percent of CRPS patients have Type 1 CRPS, which occurs after an illness or injury to a limb, but not in the region or nerves of the affected limb. For example, a colleague of mine had a patient who underwent multiple foot surgeries only to develop CRPS in her hand. Type 2 follows a distinctive nerve injury.

Physical therapy can often be beneficial to help regain muscle strength, calm inflamed nerves and surrounding tissue and slow the progression of CRPS. Hot and cold applications to the site and topical analgesics can also be very beneficial. It is important that CRPS is diagnosed and treated early; otherwise it could progress to become more disabling.

Following physical therapy, suggested therapies for CRPS include nerve blocks, biofeedback and neurostimulation therapy. These therapies have proven very successful to help CRPS patients regain an active and healthy lifestyle. If you have a patient with symptoms of CRPS, talk with your local pain management physician to see how you can effectively co-manage the patient to help them restore function

Last revised: February 15, 2013
by Kostandinos Tsoulfas, MD
Please review our
terms and conditions
carefully before utilization of the Site. The information on this Site is for informational purposes only and should in no way replace a conventional visit to an actual live physical therapist or other healthcare professional. It is recommended that you seek professional and medical advise from your physical therapist or physician prior to any form of self treatment.
Copyright 2005-2021 CyberPT Inc. All rights reserved.