PT Classroom - An Introduction to Ballroom Basics for Balance

TM

׀ by Susan Frikken, DPT, LMT
.

Susan has been a massage therapist since 1995, a physical therapist since 2013, and held many other interesting jobs and roles, including as a fledgling ballroom dance instructor. She currently has a private practice in Madison, WI --Yahara Therapy-- in which she specializes in balance and falls prevention, postural work including Schroth scoliosis therapy, and soft tissue therapies. In addition to BB4B, she is a certified Stepping On instructor, and is grateful to have finally found her occupation! More at: https://www.linkedin.com/in/sfrikken an Independent
An Introduction to Ballroom Basics for BalanceTM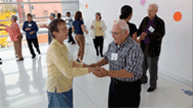 Ballroom Basics for BalanceTM (affectionately and necessarily referred to as "BB4B") is a balance class that uses basic dance movements to help people learn about and practice better balance and falls prevention. Currently it is conducted by Susan Frikken, DPT, LMT and Darcie Olson, PhD, OTR.

This class was born out of an inpatient PT session with a (bored!) man at a skilled nursing facility. While holding on to his gait belt, stepping laterally, forward, and backward, Susan thought, "If only we had music! We're doing the rumba!"

In the spring of 2014, we – a few recruited PT colleagues and PT students who worked in dance or with older adults – held our first class through the Madison (Wisconsin) Senior Center. Since then, we've held two classes per year, expanding enough to move to the beautiful Madison Public Library. Both city organizations support community programming; we are part of a symbiotic, supportive system, a crucial element in the success of the course. Since our inception we have invited physical therapy and occupational therapy and occupational therapy assistant students to volunteer with us as a hands-on learning experience. We have had other community members and students volunteer, as well. This turned out to be another critical piece of what works so well: Intergenerational engagement – it is a consistent part of what the participants love about the class.

In addition to moving, we deconstruct the dances to illustrate – verbally as well as physically – elements of good balance practice in all dimensions. The other side of the coin is safe mobility instruction and incorporating the evidence of a multidisciplinary approach to falls prevention.

Another unique element of this class is pre- and post- testing. We use enhanced static and dynamic balance screens ("4-Stage Balance" and the "Timed Up & Go") as well as a cognitive screen (Trail Making Test) and a quality of life test to 1) educate the participants about their strengths and potential falls risks, and help them start a conversation with their health care providers, and 2) collect data to make our curriculum the best it can be, and to contribute to evidence and best practices.

We have identified an increasing number of research studies supporting dance, especially in a community setting, as a contributor to a healthy lifestyle, including improving balance and cognitive function. We plan to publish our own findings from this course in 2018 and to continue to be an example of a community-based falls prevention program that is fun and effective.

We continue to train new leaders to help us spread this fun class, in hopes that other communities will have the chance to enhance balance and overall health while engaging in social activities. Our fifth Lead Instructor class will be held on Saturday 28 October 2018 in Madison, Wisconsin. We offer CEUs to professional and student PT/As, OT/As and invite other professionals who work with older adults, or who have fitness or dance backgrounds. Once completed, professionals may take the class anytime for free as a refresher. We hope to both offer the course in more locations, and that professionals will incorporate elements of the class into their own efforts. We are also growing a community, able to support one another in our disparate efforts!

We hope to improve our ability to serve diverse populations and to spread the message that practice and prevention really do work. And it can be fun!

There are many more details on our website at: www.ballroombasicsforbalance.org!
Last revised: September 24, 2017
by Susan Frikken, DPT, LMT
Please review our
terms and conditions
carefully before utilization of the Site. The information on this Site is for informational purposes only and should in no way replace a conventional visit to an actual live physical therapist or other healthcare professional. It is recommended that you seek professional and medical advise from your physical therapist or physician prior to any form of self treatment.
Copyright 2005-2021 CyberPT Inc. All rights reserved.