PT Classroom - Spinal Stenosis ׀ by Yogendra Bharat, MD
After completing his residency at the Medical College of Wisconsin, Dr. Yogendra Bharat began practicing at several locations throughout the area. He is a diplomate of the American Board of Anesthesiology and board certified by the American Board of Pain Medicine and the American Board of Anesthesiology. Dr. Bharat has specialized in chronic/acute pain treatment for several years. He is dedicated to the treatment of pain associated with headache/neck problems, back problems and trauma-related pain syndromes. He is currently practicing at Advanced Pain Management in Wisconsin and is also a Clinical Associate Professor at UW Madison teaching area residents the complexity and dedication required for the treatment of chronic pain. He conducts seminars throughout the United States as well. Dr. Bharat has a special interest in percutaneous disc procedures and radiofrequency denervation.
Spinal Stenosis
The most common indication for surgery in persons aged over 60 in the United States is Lumbar Spinal Stenosis (LSS). Currently, it is estimated that as many as 400,000 Americans, most over the age of 60, may already be suffering from the symptoms of lumbar spinal stenosis [The American Association of Neurological Surgeons (AANS) and The Congress of Neurological Surgeons (CNS)] and this number is expected to grow as members of the baby boom generation begin to reach their 60s over the next decade.

According to the U.S. Census Bureau, people over 60 will account for 18.7% of the domestic population in 2010 versus 16.6% in 1999. According to the United Nations' Population Division, Department of Economic and Social Affairs, the trend is global with the number of persons aged 60 years or older estimated to be nearly 600 million in 1999 and is projected to grow to almost 2 billion by 2050, at which time the population of older persons will be larger than the population of children (0 to 14 years) for the first time in human history. The majority of the world's older persons reside in Asia (53 per cent), while Europe has the next largest share (25 per cent).

The prevalence of musculo-skeletal disorders and the cost to treat them led the World Health Organization and the United Nations to declare 2000-2010 be the Decade committed to improving quality of life to people with bone and joint disease and injuries throughout the world.

"Musculo-skeletal conditions are crippling diseases that are the most common causes of severe long-term pain and physical disability, affecting hundreds of millions of people across the world. The extent of human suffering is expected to worsen as people live longer and the number of accidents increases. Resulting health problems will cause significant economic burden, escalating the amount of money governments will need to spend and potentially denying patients the right to necessary treatments and rehabilitation."

"The increasing age of the population will produce an increase in surgery for lumbar spinal stenosis. The risk of this type of surgery requires studies to determine the natural history of the condition, the risk/benefit ratios of surgery with and without spinal fusion, and the relative benefits of non-surgical treatments."

- The Bone and Joint Decade 2000-2010 Inaugural Meeting: April 17 and 18, 1998, Lund, Sweden.

LSS is possibly one of the most under and/or misdiagnosed syndromes today as many of these patients may not know they have a disease but instead, feel that they are just getting old and have to accept the pain and diminished physical activity associated with aging. For many the diagnosis is simply the middle, and by the time a positive diagnosis is made the patients have already surrendered their quality of life to the restrictions imposed on them by the disease and yet treatment options remain unclear.

Once a patient has a positive diagnosis the treatment options that are available to address the symptoms outnumber those that address the fundamental lesion, a spinal canal that has been compromised by hard and/or soft tissue. Even today, the indications for surgery are not clearly defined and the only alternative is conservative, non-surgical therapy. Many patients, when presented with their options, choose to postpone surgery through non-surgical measures either indefinitely or until their ability to ambulate is so severely compromised that they are functionally disabled.

What Is Spinal Stenosis?
Lumbar spinal stenosis is a condition involving any type of narrowing of the spinal canal or nerve-root canals.

Definition and Classification
There are many forms of lumbar spinal stenosis. The most common is degenerative stenosis, occurring in virtually the entire adult population as a result of the natural process of aging.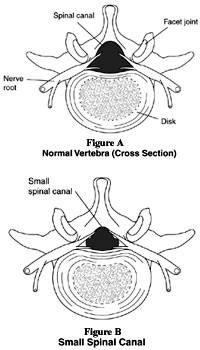 Lumbar Spinal Stenosis is a degenerative narrowing of the spinal canal, nerve root canals and/or intervertebral foramina caused by bone and/or ligament hypertrophy in local, segmental or generalized regions. The narrowing results in compression of spinal nerves and nerve roots, causing a constellation of symptoms, including lower back pain, neurogenic claudication and lower extremity pain.

Congenital lumbar stenosis is relatively rare and usually presents at an early age, often between 30 and 40. Acquired LSS is more common and generally develops when patients are in their 60s or older. It is a puzzling condition that can neither be predicted nor prevented. It does not distinguish by sex, race, or ethnicity. Nor is it associated with any particular occupation or any particular body type.

Symptoms include:

- Dull to severe aching pain in the lower back or buttocks - develops with walking or other activities.
- Pain can radiate into one or both thighs and legs (60% bilateral pain).
- Numbness, weakness or paresthesia involving the lower extremities.
- Symptoms relieved by bending forward, sitting or lying down.

Current Treatment Options
Treatment for spinal stenosis includes medications, physical therapy, epidural steroid injections, and occasionally surgery. In one meta-analysis of 74 journal articles related to the surgical management of lumbar spinal stenosis, it was determined that the mean time of symptom duration for patients electing to undergo decompressive laminectomy was 46.51 months (3.87 years) and the minimum time from first onset to surgery was 11 months. While some patients experience a rapid decline in physical function and a rapid increase in symptom severity, for many more, the process of becoming disabled from lumbar spinal stenosis is a slow one. Once the diagnosis has been made positively, the process of treating the disease begins with a regimen of non-invasive conservative therapy.
For more information on non-surgical and surgical treatment options for treating spinal stenosis and to view informative videos, please click here: Animated Educational Videos.
Last revised: July 6, 2008
by Yogendra Bharat, MD
Please review our
terms and conditions
carefully before utilization of the Site. The information on this Site is for informational purposes only and should in no way replace a conventional visit to an actual live physical therapist or other healthcare professional. It is recommended that you seek professional and medical advise from your physical therapist or physician prior to any form of self treatment.
Copyright 2005-2022 CyberPT Inc. All rights reserved.