PT Classroom - An Introduction to the National AgrAbility Project ׀ by Jeff Bayers, SPT, Susan Rowntree, SPT, Amanda Warner, SPT
An Introduction to the National AgrAbility Project
We are UW-Madison physical therapy students who recently embarked on a community service project with AgrAbility through UW-Extension to create an educational pamphlet for physical therapists who treat rural patients or who may have rural direct access patients utilize their clinics. AgrAbility is a nationally funded program with a vision "...to enable a lifestyle of high quality for farmers, ranchers and other agricultural workers with disabilities, so that they, their families, and their communities continue to succeed in rural America". AgrAbility encompasses a breadth of conditions that we can regularly see in the physical therapy profession including arthritis, spinal cord injuries, back impairments and other musculoskeletal injuries. Through this program, agricultural workers may be able to obtain assistive technology for their equipment, individualized assistance programs for job restructuring and peer support and identification of resource funding. As health care professionals, we should have knowledge about the federal resources that are specifically available for the farming population. Take a look at
AgrAbility's website
to find out more about their program and how we can collaborate with them to best serve the rural population's needs.
Click here for a copy the of AgrAbility pamphlet below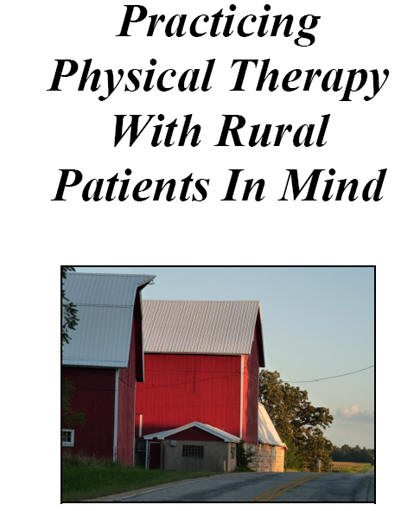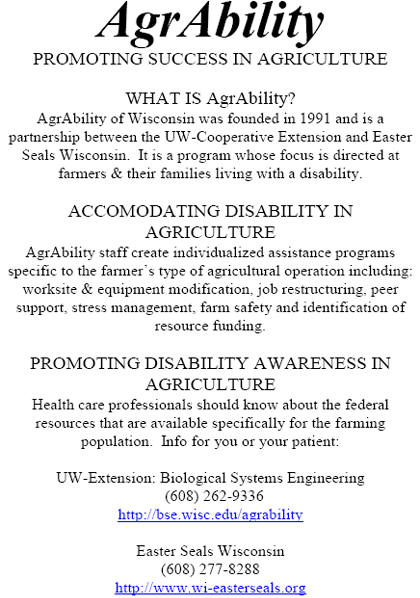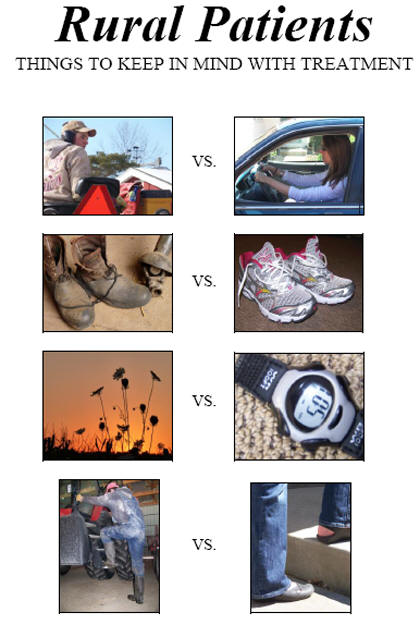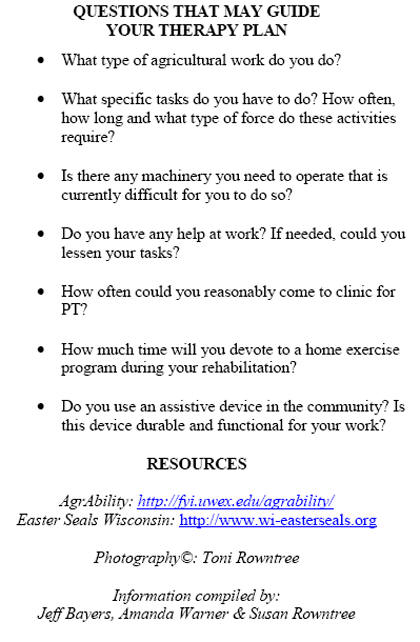 Last revised: May 15, 2011
by Jeff Bayers, SPT, Susan Rowntree, SPT, Amanda Warner, SPT
Please review our
terms and conditions
carefully before utilization of the Site. The information on this Site is for informational purposes only and should in no way replace a conventional visit to an actual live physical therapist or other healthcare professional. It is recommended that you seek professional and medical advise from your physical therapist or physician prior to any form of self treatment.
Copyright 2005-2021 CyberPT Inc. All rights reserved.