Conditions & Treatments - Prepatellar Bursitis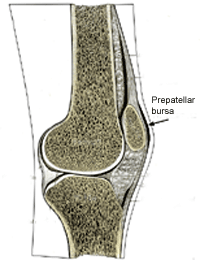 A bursa is a small, pad-like sac filled with synovial fluid that reduces friction between adjacent tissues in the human body (1). Four bursa are located over the anterior aspect of the knee joint: the suprapatellar bursa, the deep infrapatellar bursa, the subcutaneous infrapatellar bursa, and the prepatellar bursa (2). The suprapatellar bursa is located between the femur and the quadriceps tendon (2). The deep infrapatellar bursa is located between the patellar ligament and the proximal tibia (2). The subcutaneous bursa is located between the skin and the tibial tuberosity (2). The infrapatellar bursa is located between the skin and the patella (2). The subcutaneous and infrapatellar bursa are collectively referred to as "prepatellar bursa" (2). When the prepatellar bursa become irritated and inflamed, a condition referred to as prepatellar bursitis results (3).

Causes and Symptoms
Prepatellar bursitis may result from a macrotrauma (such as a direct blow to or fall on the knee), repetitive microtrauma (repetitive kneeling), or a bacterial infection. Athletes in football, wrestling, and basketball are at greater risk for prepatellar bursitis since blows to/falls on the knee are common in these sports (1). Laborers in occupations where frequent kneeling is required, including plumbers, roofers, homemakers, carpet layers, coal miners, and gardeners, are also at a greater risk for prepatellar bursitis (1). Additionally, people suffering from rheumatoid arthritis or gout are pre-disposed to develop prepatellar bursitis (1).

Regardless of the cause, symptoms of prepatellar bursitis include pain with activity, rapid swelling on the front of the kneecap, tenderness and warmth to the touch, and an inability to kneel on the affected knee (1,4).

Examination
If symptoms include redness, tenderness, warmth, and fever, a doctor may aspirate fluid from the bursa to determine if an infection is present. If a direct blow or fall caused the prepatellar swelling, a doctor may order plain films to rule out a patellar fracture. A doctor may also order a MRI or ultrasound to further rule out other conditions known to cause patellofemoral pain, including but not limited to medial collateral and lateral collateral ligament injury, osteoarthritis, pes anserinus bursitis, posterior cruciate ligament injury, and rheumatoid arthritis (4). Otherwise, chronic bursitis is commonly diagnosed via subjective history, palpation, range of motion, flexibility, and strength assessments.

Treatment and Prevention
If an infection is present, a doctor will prescribe antibiotics (1). After an initial period of rest, ice, and elevation, skilled physical therapy treatment is appropriate. Goals of physical therapy include decreasing pain, decreasing swelling, improving knee range of motion, improving flexibility, and increasing strength of both hip and knee musculature (4). Different modalities, including ice, iontophoresis, ultrasound, and electrical stimulation may be included in the physical therapy plan of care (3).

Invasive treatments of prepatellar bursitis include corticosteroid injections, aspiration of fluid, and surgical removal of the bursa. A systematic literature review by Baumbach et al recommends that incision, drainage, and surgical removal of the bursa should only be utilized for patients with severe, chronic prepatellar bursitis (4).

To avoid prepatellar bursitis, limit kneeling, wear kneepads at work if your occupation requires kneeling, and wear kneepads when playing a sport where a blow to or fall on the knee is likely (4).
Last revised: September 19, 2014
by Michelle Kornder, DPT
References
1) Prepatellar (Kneecap) Bursitis-AAOS. American Academy of Orthopaedic Surgeons. Updated March, 2014. http://orthoinfo.aaos.org/topic.cfm?topic=a00338. Accessed September 14, 2014.
2) McAfee JH and Smith DL. Olecranon and Prepatellar Bursitis: Diagnosis and Treatment. Topics in Primary Care Medicine. 1988;149:607-610. Accessed September 14, 2014.
3) A Patient's Guide to Prepatellar Bursitis. Houston Methodist Orthopedics & Sports Medicine. http://www.methodistorthopedics.com/prepatellar-bursitis. Accessed September 14, 2014.
4) Allen KL and Fried GW. Prepatellar Bursitis Clinical Presentation. Medscape. http://emedicine.medscape.com/article/309014-clinical#a0216. Accessed September 14, 2014.


Please review our
terms and conditions
carefully before utilization of the Site. The information on this Site is for informational purposes only and should in no way replace a conventional visit to an actual live physical therapist or other healthcare professional. It is recommended that you seek professional and medical advise from your physical therapist or physician prior to any form of self treatment.
Copyright 2005-2021 CyberPT Inc. All rights reserved.