Account Features for Job Seeker!
Searching and applying for a physical therapy job on the CyberPT job board is simple and easy. Simply register for a Job Seeker account and utilize the many tools which are at your disposal.
---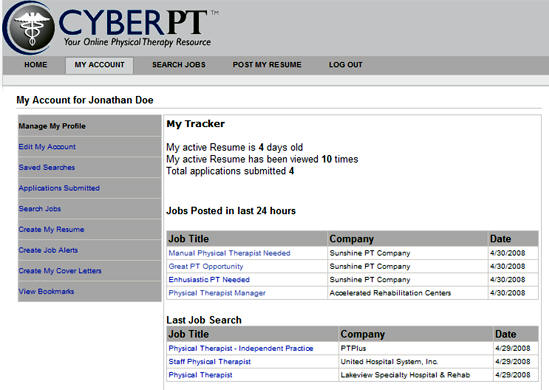 ·
Create your profile - Information included in your profile will give you instant exposure to a multitude of employers and help them target your qualifications.
·
Create a Resume - Use our simple step-by-step process to create your Resume. If you already have a Resume you can cut and paste or upload it as a WORD or PDF file. Helpful tips will guide you through the process! You can post up to three Resumes.
·
Post Your Resume -
Make your resume searchable and allow employers to scan our resume pool looking for the ideal candidates for their jobs.
·
Create a Cover Letter - Create up to three different cover letters for jobs which are being applied for.
·
Launch a Job Search - Search for jobs matching your criteria and save searches to browse future job opportunities.
·
Create a Job Alert - Be alerted to new job opportunities for your search. You determine how often you want job alerts delivered to your email.
·
Apply for a Job - Apply for a job online directly through the CyberPT Job Board. Launch another job search and apply online using our automated process.
·
Bookmark a Job - Bookmark a job you may be interested in so you can return to view it later.
Copyright © 2006-2020 CyberPT Inc. All rights reserved.
Powered by PayPal- PayPal Verfied