---
Maximize your advertising dollars by posting your PT related course on the CyberPT Continuing Education Board!
CyberPT offers a competitive and effective advertising solution for marketing your continuing education courses. Sign up now and post your courses to maximize your marketing efforts. ....More >>
---
Discover what others are saying about a course before you sign up.
Share your experiences by reviewing a course you attended which was listed on the CyberPT Continuing Education Board. ....More >>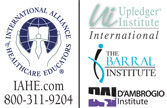 Lymphatic Balancing; Total Body Approach (LBTB)
Manual Therapy

Florida Virtual June 24 -27, 2021
---
This course teaches you how to perform a Total Body Evaluation (ARTS), and treat excess fluid or swelling in the body. This class teaches you a total body approach to lymphatic balancing. LB is useful place to start for new patients before performing specific LB on local regions of the body, or as maintenance for the patient.
Learner Objectives
• Gain an understanding of the history, principles, and neuromuscular basis of Lymphatic Balancing.
• Learn the significant anatomy of the lymphatic system and supporting structures.
• Conduct a thorough specific orthopedic evaluation using ARTS of the total body.
• Understand the indications and contraindication of Lymphatic Balancing in order to perform the technique safely.
• Ability to chart your results of the evaluation and formulate a treatment plan.
• Determine the proper sequence of treating the Total Body Lesion.
• Perform Lymphatic Balancing on the nodes, vessels, and tissues of the the cranium, spine, thorax, abdomen, and upper and lower extremity. • Understand the clinical importance of Lymphatic Balancing for the treatment of excess fluid, swelling, or lymphatic stagnation in relation to muscular skeletal dysfunctions.
• Integrate Lymphatic Balancing with other treatment modalities taught at the D'Ambrogio Institute.
Click here for pricing and additional information:
http://shop.iahe.com/Workshops/Lymphatic-Balancing/LBTB-V-06.24-27.21-VIRTUAL

End Date:Wednesday, August 25, 2021
Contact Info
Kristen Bloom
The International Alliance of Healthcare Educators
kristen.bloom@iahe.com
Phone :(800) 233-5880 Ext 1361
Fax :561-622-4771

---
Copyright © 2006-2020 CyberPT Inc. All rights reserved.
Powered by PayPal- PayPal Verfied