---
Maximize your advertising dollars by posting your PT related course on the CyberPT Continuing Education Board!
CyberPT offers a competitive and effective advertising solution for marketing your continuing education courses. Sign up now and post your courses to maximize your marketing efforts. ....More >>
---
Discover what others are saying about a course before you sign up.
Share your experiences by reviewing a course you attended which was listed on the CyberPT Continuing Education Board. ....More >>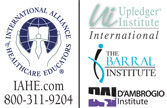 CranioSacral Therapy 1
Alternative Medicine Manual Therapy Other

Wisconsin Milwaukee & various other locations
Florida Palm Beach & various other locations
Pennsylvania Philadelphia & various other locations
---
Course Highlights: By the end of this 4-day workshop you should be able to:
• Describe the scientific foundation and principles of CranioSacral Therapy - and why it's the key to relieving pain and dysfunction at their source
• Demonstrate finely tuned palpation skills you can rely on as highly sensitive and intuitive healthcare tools
• Identify the subtle craniosacral rhythm and interpret its patterns to accurately evaluate dysfunction and improvements
• Locate the source of physical problems by traveling through the fascial system, that complex web of tissue that impacts all body structures and systems
• Release dural tube restrictions to enhance interactions between the central nervous system and the rest of the body
• Use techniques that produce dramatic health and relaxation effects, including Direction of Energy and Still-Point Induction
• Work with approaches to a number of common ailments such as TMJ dysfunction, head and neck pain, central nervous system disorders and many more
• Put a simple, effective 10-Step Protocol into practice right away
Few systems have as much impact on the human body as the craniosacral system. It protects and nourishes the brain and spinal cord - and affects nearly every aspect of central nervous system performance.
That's why CST is so critical to your healthcare practice. Developed after years of university research and testing, it allows you to release fascial restrictions anywhere on the body that may be impinging the craniosacral system and every other system it interacts with.
In this workshop you'll learn gentle techniques to normalize the craniosacral system and allow the body to self-correct. By unraveling pain and dysfunction at the source, you'll naturally help eliminate stress, strengthen resistance to disease, and enhance health in every dimension.
$795 with early registration discounts available. Tuition rates may be subject to local/state taxes and/or city surcharges. This course is 24 contact hours.
Visit http://shop.iahe.com/Workshops/CranioSacral-Therapy-1-CS1 for dates and locations and to register.

End Date:Tuesday, April 25, 2023
Contact Info
International Alliance of Healthcare Educators

iahe@iahe.com
800-311-9204
http://www.iahe.com

---
Copyright © 2006-2020 CyberPT Inc. All rights reserved.
Powered by PayPal- PayPal Verfied