---
Maximize your advertising dollars by posting your PT related course on the CyberPT Continuing Education Board!
CyberPT offers a competitive and effective advertising solution for marketing your continuing education courses. Sign up now and post your courses to maximize your marketing efforts. ....More >>
---
Discover what others are saying about a course before you sign up.
Share your experiences by reviewing a course you attended which was listed on the CyberPT Continuing Education Board. ....More >>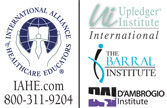 Integration Techniques: Total Body Balancing 1 (TBB1)
Manual Therapy Alternative Medicine Other

Colorado Denver & various other locations
Oregon Portland & various other location
Florida Palm Beach & various other locations
---
D'Ambrogio Institute - Total Body Balancing
Total Body Balancing (TBB), is based upon the Body Adjustment which was developed by John Wernham D.O.. TBB is a total body evaluation and a 6-phase osteoarticular treatment approach based on classical osteopathic theory. TBB uses long levers to relax the muscles, fascia, joints, and ligaments to improve circulation, nerve and energy flow, thus normalizing sympathetic and parasympathetic neurological activity with a goal of creating a new homeodynamic state.
TBB1 Course Objectives:
• Gain an understanding of the history, principles, and neuromuscular basis of classical osteopathy and TBB.
• Understand the causes of somatic dysfunction and the nature of a vital mechanism.
• Conduct a thorough full-body orthopedic evaluation for the spine (cervical, thoracic and lumbar), rib cage, pelvis, sacrum (lumbo-sacral, and sacro-iliac joints), upper and lower extremities
• Chart your results and formulate a treatment plan
• Decide on the proper sequence of treating Somatic Dysfunction
• Perform a 6 phase full-body TBB routine in supine, prone, side lying (left/right), sitting and ending in the supine position.
• Understand the clinical importance of TBB and the treatment of joint and muscular skeletal dysfunctions
• Integrate TBB with other treatment modalities such as MET, PRT, MFR, Craniosacral Therapy, Visceral Manipulation, and Lymphatic Drainage
In this seminar you will be taught a full body treatment routine called "Total Body Balancing". You will learn to take the information from your evaluation and create a specific treatment plan for your patient. Within this routine you will be shown how to integrate techniques for protective muscle spasm (Positional Release Therapy), joint stiffness (Muscle Energy Techniques), fascial scar tissue (Myofascial Release, Craniosacral Therapy & Visceral Manipulation) & swelling (Lymphatic Drainage). Do not be concerned if you have not studied these treatment techniques as our main focus is to teach you the full body treatment routine and we will demonstrate and lecture how you can integrate the other techniques into your treatment session. This procedure is a very gentle process that covers the entire body and can be done in as little as 20 minutes.
$695 with early registration discounts available. Tuition rates may be subject to local/state taxes and/or city surcharges. This course is 18 contact hours.
Visit http://shop.iahe.com/Workshops/Total-Body-Balancing-1-TBB1 for dates and locations and to register.

End Date:Tuesday, April 25, 2023
Contact Info
Kristen Bloom
The International Alliance of Healthcare Educators
kristen.bloom@iahe.com
Phone :(800) 233-5880 Ext 1361
Fax :561-622-4771

---
Copyright © 2006-2020 CyberPT Inc. All rights reserved.
Powered by PayPal- PayPal Verfied