---
Maximize your advertising dollars by posting your PT related course on the CyberPT Continuing Education Board!
CyberPT offers a competitive and effective advertising solution for marketing your continuing education courses. Sign up now and post your courses to maximize your marketing efforts. ....More >>
---
Discover what others are saying about a course before you sign up.
Share your experiences by reviewing a course you attended which was listed on the CyberPT Continuing Education Board. ....More >>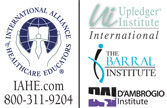 Visceral Manipulation: Abdomen 1 (VM1)
Other Alternative Medicine Manual Therapy

New York White Plains & various other locations
Hawaii Honolulu & various other locations
Arizona Sedona & various other locations
---
Barral Visceral Manipulation, Neural Manipulation, New Manual Articular Approach
In VM1 you will study the models and theories of functional biomechanics as viewed from Barral's innovative approach.
Course Highlights
• Learn manual skills to locate, evaluate and normalize primary areas of dysfunction within the abdominal cavity.
• Explore the dynamics of motion and suspension in relation to organs, membranes and ligaments.
• Examine the relationship of organs and structural or neuromusculoskeletal dysfunction.
• Assess the quality of functional activity and somatic structures as they relate to an overall pattern.
In this course, you will be introduced to the models and concepts of functional biomechanics as viewed from Jean-Pierre Barral's Visceral Manipulation approach. This method of evaluation and treatment is based on the concept that each of our internal organs rotates on a physiological axis. Focus is on the abdominal cavity and includes the organs, their membranes, ligaments, innervation and their spatial functional interrelationships. You will learn basic manipulations for correcting abnormal motions and stress patterns within this cavity. The manual techniques are not advised for pregnant participants.
$795 with discounts available for early registration. Tuition rates may be subject to local/state taxes and/or city surcharges. This course is 24 contact hours.
Visit http://shop.iahe.com/Workshops/Abdomen-1-VM1 for dates and locations and to register.

End Date:Saturday, January 20, 2024
Contact Info
Kristen Bloom
The International Alliance of Healthcare Educators
kristen.bloom@iahe.com
Phone :(800) 233-5880 Ext 1361
Fax :561-622-4771

---
Copyright © 2006-2020 CyberPT Inc. All rights reserved.
Powered by PayPal- PayPal Verfied